Return To Blog
Summer Fur Storage
---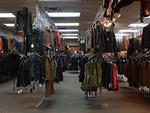 Its Spring again, and that means Summer Fur Storage at Jonval.
We are the Rocky Mountain Regions leader in professonal, quality fur storage in our state of the art cold storage fur vault. Don't trust your valuable furs to anyone else, only Jonval has a U.L. certified, humidified, fur storage vault that provides your furs with the ideal climate they need for a long life.  Add to this our exclusive hand fur cleaning process that gently and throughly cleans and revitalizes your fur without tumbling!! 

We also offer a full range of fur restyling,fur repairing as well as leather repairs and leather cleaning.

Call us today for free pick up and delivery, including Boulder,Ft. Collins, Greeley, Colorado Springs, Evergreen, Conifer, Summit County, the Vail Valley and all points between!!